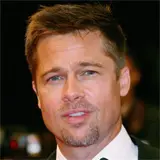 Brad Pitt has entered into negotiations to star in The Gray Man for New Regency and director James Gray.
In The Gray Man, Pitt would play an assassin and former CIA operative who finds himself on the run from elite killers. He must protect not only himself, but his handler and their family in a game of cat and mouse across Europe.
The Gray Man was written by Adam Cozad (who also scripted the Jack Ryan reboot project starring Chris Pine for Paramount) based on the novel by Mark Greaney (Check out The Gray Man book and its sequel at Amazon.com). It is widely considered to be one of the best unproduced scripts in Hollywood and appears on the 2010 Black List. That designation, along with Pitt's probable involvement, should help catapult the film into production.
Right now it's looking like The Gray Man would shoot in the first quarter of 2012 if Pitt is brought on board. He'll be free from World War Z, the zombie movie that is currently in production. Angelina Jolie is not booked for that time which jives with the pair's commitment to not be working at the same time.
Brad Pitt will next be seen in Moneyball which is set to debut at the Toronto Film Festival next month.