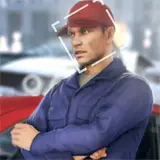 While scanning pedestrians and bystanders in Ubisoft's Watch Dogs this November, you may stumble into a couple familiar names.
Joining previously announced Aisha Tyler as a non-playable pedestrian in Watch Dogs is pro race car driver and NASCAR Penske Racing team member Brad Keselowski. Like Aisha, he'll be wandering around the streets of Chicago and can be scanned and hacked by none other other than you.
Is this it for celebrity "cameos" in Watch Dogs? Will there be DLC packs where we can insert more famous people or even create our friends and plop them into the game? Something tells me other Easter Egg appearances will come to light in the near future.
Watch Dogs will be available to own for PS4 with an hour's worth of exclusive content on its November 15 launch date, followed by Xbox 360, PS3, Xbox One and Wii U versions on November 19.
Pre-order Watch Dogs on the platform of your choice with free shipping at Amazon.com.