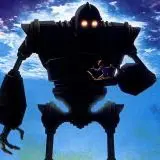 Brad Bird's 1999 animated film The Iron Giant is a notable missing piece to many Blu-ray libraries. The superb science fiction family story stands the test of time over a decade after its release, and seemed like it had a shot of finally coming out on Blu-ray with the director's live-action debut Mission: Impossible – Ghost Protocol hitting theaters this month and home video early next year.
While doing press rounds for MI:4, Bird updated the status of The Iron Giant coming to Blu-ray with both good and bad news. The good news is that Bird has been actively discussing The Iron Giant Blu-ray release plans with Warner Bros. for the past 10 years so there is a lot of interest on both sides to get it done. When it is done, Bird wants to make sure it's more than just a higher resolution version of the film. He wants new bonus features recorded that delve into the difficulty in bringing the film to life.
The bad news is that the planning of the The Iron Giant Blu-ray release is still in the discussion phase. Bird does say the discussions are more serious now than in the past, but they're still just discussions.
While our hopes were slightly up that The Iron Giant would land on Blu-ray to coincide with the Mission: Impossible – Ghost Protocol Blu-ray release in March or April of 2012, it looks like we're still at least a year out from its release.
If Brad Bird gets his way, The Iron Giant on Blu-ray will be worth the wait.
Source: Den of Geek