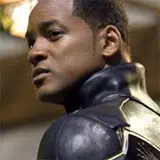 Hancock and Will Smith kept their box office immortality intact through the holiday weekend, amassing an estimated bounty of $107.3 million take from Tuesday evening through Sunday per BoxOfficeMojo.com.
From Friday though Sunday, Hancock brushed aside harsh critical reaction and raked in $66 million or almost double Wall-E's $33.4 million take. It's per-screen average was slightly over double Wall-E's at $16,645 versus $8,370.
Wanted's 59% drop from its opening week was sharper than Wall-E's 47% drop but won't keep the Angelina Jolie stylistic actioneer from crossing the $100 million mark. Through Sunday it stands at $90.7 million after just two weeks.
The only other newcomer this past weekend, Kit Kittredge: An American Girl, pulled in a per-screen average of $1,953.
The remaining top 10 weekend box office champs shake out as follows with Get Smart on the verge of joining the $100 club with all-time receipts totaling $98 million.
1. Hancock: $66m
2. Wall*E: $33.4m
3. Wanted: $20.6m
4. Get Smart: $11.1m
5. Kung Fu Panda: $7.5m
6. The Incredible Hulk: $4.9m
7. Indiana Jones and the Kingdom of the Crystal Skull: $3.9m
8. Kit Kittredge: An American Girl: $3.6m
9. Sex and the City: $2.3m
10. You Don't Mess with the Zohan: $2m
Next weekend sees a trifecta of big releases square off: Universal's Hellboy II: The Golden Army, New Line's Journey to the Center of the Earth in 3D and Fox's new Eddie Murphy comedy Meet Dave.
You can put in your best guess for whether Hellboy will reign supreme next week in our official Guess the Box Office thread in the HDR Forums.