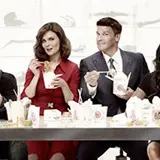 Fox has granted 'Bones' a seventh season despite some backlash over the creative direction of the show and the impending motherhood of its star.
The final episodes of 'Bones' Season 6 are currently airing with the season finale due on May 19. After that, showrunner Hart Hanson will have to determine whether to work Emily Deschanel's pregnancy into the narrative or find a way around it. The season finale's title 'A Change in the Game' somewhat hints that Bones Jr. may come into play.
Elsewhere in the 'Bones' universe, Fox continues to slowly develop 'The Locator,' a spinoff based around three characters played by Michael Clarke Duncan, Geoff Stults and Saffron Burrows. All three appeared in a recent episode of 'Bones' to set the foundation for 'The Locator.'
With 'Fringe' and now 'Bones' renewed, Fox will now turn its attention to the fate of 'Lie to Me,' 'Human Target' and 'The Chicago Code.' All are sitting atop a bubble and at least one, if not more, are unlikely to return.