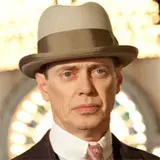 HBO is breaking their usual release schedule for original series on home video with the inaugural season of Boardwalk Empire starring Steve Buscemi.
Typically HBO, and other cable networks, release the latest season of a series on home video within a couple weeks of the next season's broadcast premiere. For Boardwalk Empire: Season 1, HBO will be releasing it on Blu-ray and DVD on January 10, 2012, around the time of Season 2's finale.
Boardwalk Empire: Season 1 will come to Blu-ray in 1080p video and 5.1 DTS-HD Master Audio. Bonus features will include, but not be limited to:
Enhanced Viewing on all 12 episodes
Evolving Character Dossier
Making Boardwalk Empire
Speakeasy Tour
Six Audio Commentaries with Cast and Crew
Click here to pre-order Boardwalk Empire: Season 1 on Blu-ray for $55.99 at Amazon.com, 30% off the $79.98 list price.