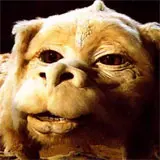 Joining Clash of the Titans on Blu-ray March 2 from Warner Home Video will be another early 1980s special effects pioneer, The Neverending Story.
Wolfgang Petersen's story about a boy who enters a fantastical world through a book is expected to arrive on Blu-ray in 1080p video and lossless audio, though neither are confirmed at this time.
Bonus features on the disc are limited in a theatrical trailer.
If countless repeats of The Neverending Story on cable in the late 1980s didn't embed the film into your brain, check out the trailer below for a refresh and look for Amazon pre-order information shortly.