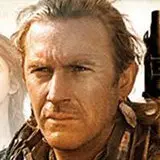 Blu-ray will get a whole lot wetter on October 20 when the Kevin Costner's "Mad Max at Sea" adventure Waterworld completes its journey from defunct HD DVD to "Blu"-er waters.
Looking back at Waterworld on HD DVD reveals a bare bones release without a single supplement. Universal Studios Home Entertainment has taken a similar approach with Blu-ray but was kind enough to include the theatrical trailer.
Rather than serve up the nearly three-hour extended cut given Blu-ray's spacious disc capacity compared to HD DVD, Universal has chosen to stick with the 2:16 theatrical cut. That decision leaves a lot of extra space, a portion of which has been dedicated to a D-BOX Motion Control track accompanying a 1.85:1 1080p transfer and 5.1 DTS-HD Master Audio.
Universal will likely use the same key art for the Blu-ray edition cover and I'll be sure to pass along that cover as soon as I have it to share.