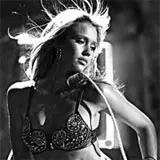 What was once planned to be released during the first few months of Buena Vista's Blu-ray Disc era will see the light of day on April 21. Frank Miller's Sin City is at long last officially coming to Blu-ray.
Dimension is making sure to take advantage of Blu-ray's storage capacity by offering both the original theatrical cut and extended unrated recut version in the same package.
Each version will be pressed onto a separate disc flanked by a total of over 8 hours of bonus features. Disc one will include the theatrical cut; the first of two new Blu-ray exclusive features, Cine-Explore; two audio commentaries and an audio track from Austin premiere.
Disc two will include the recut version; Kill 'Em Good Interactive Comic Book that retells Marv's story with you in the driver's seat; four featurettes; interviews with Quentin Tarantino and Frank Miller; Robert Rodriguez special features and "much more" which are likely comprised of extras from the last DVD edition.
On the tech specs front, Dimension is blessing Sin City with 1.85:1 1080p video, 5.1 DTS-HD Master Audio and D-BOX Motion Code on the disc.
Check out a sneak peek of the cover art and bonus features below. The retail price has been set at $35.99 which means the on-shelf price should be around $25. I'll report back with pre-order information and a link once available.