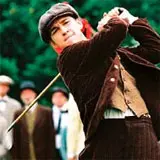 The Greatest Game Ever Played will tee off on Blu-ray Disc and put its star back in the Blu-ray spotlight.
The Bill Paxton helmed drama features Shia LaBeouf as a young golfer with amazing skills. It will arrive on Blu-ray Disc June 16, a little more than 1 week before Shia hits the big screen in Transformers: Revenge of the Fallen.
Bonus features will include the following.
Audio commentaries with Paxton and Frost
A View From the Gallery: On the Set
Two Legends and the Greatest Game
From Caddie to Champion: Francis Ouimet
No additional information on The Great Game Ever Played on Blu-ray is available right now except confirmation of a $34.99 SRP.