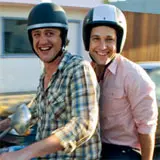 I Love You, Man will bring its "man-dates" to Blu-ray on Disc on August 11, day-and-date with DVD.
The comedy stars Paul Rudd as an engaged dude without a prospect for a best man at his wedding. To rememdy the situation, he goes searching for the perfect male friend via a series of "man-dates." Co-starring in the comedy are Jason Segel, Rashida Jones, Iron Man 2 director Jon Favreau and Jaime Pressley.
I Love You, Man on Blu-ray will be offered in 1.85:1 1080p video and 5.1 Dolby TrueHD audio. Bonus features shared between DVD and Blu-ray are as follows:
Commentary
Making-of featurette
Outtakes
Deleted scenes
Gag reel
Retail pricing for I Love You, Man on Blu-ray has been set at $39.99. Amazon pricing should clock in around $28 which I'll share with a pre-order link when available.