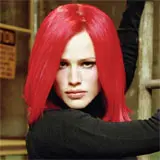 With Lost preparing to enter its final season and Star Trek continuing to burn up the box office, properties with J.J. Abrams name attached are hot stuff right now.
That is why the following rumor makes all the sense in the world. Based on intelligence gathered, ABC and Buena Vista Home Entertainment will release the first season of Alias on Blu-ray Disc later this year.
All 105 episodes of Alias spanning five seasons were co-executive produced and co-written by J.J. Abrams. The series helped catapult him into Lost and put its star, Jennifer Garner playing international spy Sydney Bristow, on the map.
Other than expecting to see Alias span six discs, there is no further information available at this time. The release date could fall anywhere between September and December, and I'll be sure to pass along additional information as soon as it is received.
Are you excited for Alias to not only come to Blu-ray but start at season one? Chime in below in the Comments section.