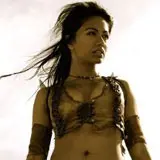 To date with Blu-ray Rise and Shine we've stuck with relatively "name" actresses that have already cemented their impression on Hollywood, for better or worse. To mix things up this week we've chosen an actress whose impact on the industry is still being written.
Karen Shenaz David was first discovered by Bill Cosby to star alongside him in a TV commercial for Jell-O at the ripe young age of six. She used that as one of many experiences to land a spot at the London Guildford School of Acting when most teenagers her age were in their senior year of high school.
Though Karen's name is more popular in Asia, Europe and Bollywood due to her Indian roots and mother who is half-Chinese, she has made a number of stateside cameos. You may spot Karen playing a courthouse reporter in Batman Begins or an OPS soldier in Steven Seagal's Flight of Fury.
Karen is making her first starring role in an American film playing sexy Layla in the direct-to-video sequel The Scorpion King 2: Rise of a Warrior. From there she's working on some recording projects for a new album, but we suspect she's got many more Hollywood appearences to make before all is said and done.
Scorpion King 2: Rise of a Warrior on Blu-ray Disc is currently available at Amazon.com (support HDR and order here).
1 You can check out our previous Blu-ray Rise and Shine features by visiting our articles archive and performing a browser search for "Rise and Shine."