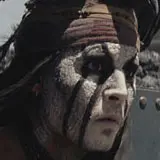 Update: The dates have been removed at the request of Disney.
Disney's The Lone Ranger starring Johnny Depp and Pixar's Monsters University are currently despising and enjoying their box office runs, respectively. It will be several months yet before either will be available to own on Blu-ray and DVD, but already one retailer has potentially let slip the exact date they will first land in stores.
TheHDRoom reader Josh was poking around Walmart.com and noticed both Disney releases were listed on the site with active pre-orders. That's nothing new considering Amazon.com began taking pre-orders for The Lone Ranger on Blu-ray and DVD combo before the film was released, and Monsters University Blu-ray 3D, Blu-ray and DVD pre-orders began about a week ago.
What makes these Walmart.com listings unique is they include precise release dates. For The Lone Ranger that release date is [removed]. For Monsters University it is [removed].
It is always a good rule of thumb to consider no release date set in stone until the studio makes their official announcement. However, a big retailer like Walmart.com is not going to make up precise release dates. Those dates probably came from Buena Vista Home Entertainment, and there is at least a possibility that they are representative of what the finalized release dates will be.
The Lone Ranger has struggled at the box office and likely won't even reach $100 million here in North America before it trots off to home video. The film debut in cinemas on July 3, so applying the three-month rule puts the earliest possible release date would be October 8. Walmart's date is right in line with what I would speculate the date to be based on Buena Vista's history.
I don't expect either The Lone Ranger or Monsters University to get their formal Blu-ray and DVD announcements for at least another month, but will certainly pass along any updates as they are received.
Pre-order The Lone Ranger on Blu-ray and DVD combo for a discounted price at Amazon.com.
Pre-order Monsters University on Blu-ray and DVD combo for a discounted price at Amazon.com.