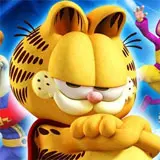 Fox is prepping a little something for the kiddies this summer on Blu-ray Disc that is orange, fat and packs quite the attitude.
The direct-to-video animated movie Garfield's Pet Force will see a day-and-date Blu-ray Disc and DVD debut on June 16.
Though not confirmed by Fox as no official announcement has been made, Garfield's Pet Force should be presented in 1.85:1 1080p video and 5.1 DTS-HD Master Audio.
Fox's official synopsis for the film is as follows: One minute, Garfield and his pals are having a cookout, the next, they're engaged in a super battle with a sinister alien and her army of zombies! When an evil comic book demoness tries to make everyone in Cartoon World her slaves, all the comic strip characters become superheroes in order to thwart her. Well, all except Garfield, who thinks being a superhero sounds like too much work! But when he sees all his friends in trouble, the fat cat might have to rise to the occasion!
Click through the disc details below to view cover art, and be on the lookout for an Amazon.com pre-order link in the $20-$21 range based on a $29.99 SRP.