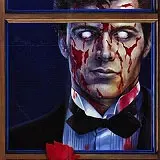 With Halloween rapidly approaching, Sony Pictures Home Entertainment dug deep into their vault and yanked out the 1986 campy thriller Night of the Creeps for a Blu-ray Disc treatment.
Arriving on October 27, Night of the Creeps on Blu-ray is coming in 1.85:1 1080p video and 5.1 Dolby TrueHD Audio.
Night of the Creeps has the benefit of numerous previously produced bonus features that will find their way onto Blu-ray as outlined below.
Commentary with Writer/ Director Fred Dekker
Cast Commentary
Birth of the Creeps
Cast of the Creeps
Creating the Creeps
Escape of the Creeps
Legend of the Creeps
Tom Atkins: Man of Action
Original Theatrical Ending
Trivia Track
Deleted Scenes
In this campy chiller, a college couple, in 1959, see an object plummet to Earth like a meteor. The boy accidentally swallows a space-slug that shoots out. In 1986, two freshmen roam the campus and stumble across the corpse of the boy who swallowed the space-slug. Once thawed out, the corpse comes to life.
Click here to pre-order Night of the Creeps on Blu-ray for $17.49 at Amazon.com.