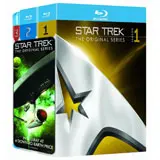 Online retailer Amazon.com has a couple new Blu-ray deals going on right now that between them will appeal to those looking for a cheap fix as well as something a little more substantial.
The first deal is Amazon's Blu-ray Deal of the Week that went live last night. It features CBS Home Entertainment's Star Trek: The Complete Original Series (Seasons 1-3) on Blu-ray for $59.99, or a huge 81% off its $321.99 list price. This set has been out awhile already so many of the Original Series fans already own it. However, for those that don't, this is the cheapest I can remember it ever being priced.
Click here to grab Star Trek: The Complete Original Series on Blu-ray for $59.99 with free super saver shipping.
Next up is the classic Cold War thriller Wargames starring Matthew Broderick and Ally Sheedy. Wargames was shown some love in Marvel's Captain America: The Winter Soldier when Black Widow mimicked the game's computer's famous line, "Shall we play a game?"
If seeing that got you interested in adding Wargames to your Blu-ray library then you're in luck as Amazon has it on sale for $4.99, 67% off its $15 list price. The low price has already pushed Wargames on Blu-ray into Amazon's top 10 bestselling Blu-ray titles.