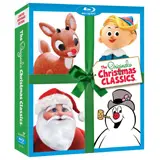 Today only at Amazon.com, The Rankin-Bass Original Christmas Classics on Blu-ray Disc are priced where you simply can't say no.
For a great sale price at a mere $19.49 (57% off the $44.95 list price) you'll get the stop-motion Rudolph the Red-Nosed Reindeer and Santa Claus is Comin' to Town, along with the animated Frosty the Snowman and its sequel, Frosty Returns. These classics and holiday staples have never looked better then they do on Blu-ray and should be a part of every collection. As of two minutes ago they became a part of mine.
Purchase The Original Christmas Classics on Blu-ray for $19.49 at Amazon.com.