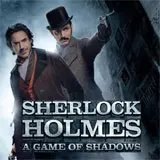 The July Fourth holiday has arrived. To celebrate, online retailer Amazon.com has dropped the price enough on two Blu-ray titles to send them skyrocketing into the Blu-ray bestsellers chart.
Sitting at number one for most of today is Sherlock Holmes: A Game of Shadows starring Robert Downey Jr. (The Avengers) and Noomi Rapace (Prometheus) on Blu-ray and DVD combo. Normally priced around $20, today Amazon is selling it for only $14.99. The game, as Sherlock might say, is on.
Further down on Amazon's top 10 bestselling Blu-ray titles for today is Stand by Me with Wil Wheaton and River Phoenix. It normally sells for $22, but is now on sale for a mere $9.99. Just typing those three words gets that song stuck in my head.
It's unclear how long Amazon will support these sale prices, so if you're interested in either Blu-ray, best to jump on them sooner rather than later.
Click here to buy Sherlock Holmes: A Game of Shadows on Blu-ray for $14.99.