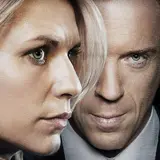 Fox will be releasing the Blu-ray and DVD editions of Showtime's award-winning drama Homeland: Season 2 starring Claire Danes, Damian Lewis, Morena Baccarin and Mandy Patinkin this upcoming Tuesday, September 10. With Season 3 right around the corner and the first episode of that season having already leaked, interest in Season 2 is picking up thanks in part to a new lower pre-order price.
Online retailer Amazon.com has dropped the price on Homeland: Season 2 down to only $29.99 just ahead of its release. This new sale price is 57% off the $69.99 list price, far more than Amazon usually discounts on a new release, and even $3 less than you can buy Homeland: Season 1 for. Because the price is over $25 is qualifies for free super saver shipping.
If you haven't seen and episode of Homeland yet then what are you waiting for? There are countless examples laced throughout the show of why Claire Danes and Damian Lewis have won Emmy awards for their performances and the show has won Best Drama. The writing is superb, tension is off the chart, and the story goes directions you won't see coming.
Click here to pre-order Homeland: Season 2 on Blu-ray for $29.99 with free shipping at Amazon.