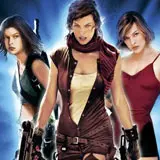 Resident Evil: Retribution keeps the enduring video game-based film franchise starring Milla Jovovich alive this upcoming weekend. The return of Resident Evil to theaters is a perfect opportunity to run a sale on the previous films in the franchise, and that's exactly what Amazon.com has begun today.
From today through next Saturday, a day after Resident Evil: Retribution debuts, Amazon is lowering the price on all of their live-action Resident Evil-based films and the cgi-animated one Resident Evil: Degeneration.
Price at $9.99 for the next six-plus days are the following Resident Evil films on Blu-ray: Resident Evil, Resident Evil: Apocalypse, Resident Evil: Extinction, Resident Evil: Afterlife and Resident Evil: Degeneration. Also on sale is the Resident Evil: The High-Definition Trilogy box set that includes Resident Evil, Apocalypse and Extinction for $22.99. The cheapest way to scoop up the live-action films would be to grab the trilogy and then add on Afterlife for a total of $32.98.
Click here to shop the Resident Evil Blu-ray sale at Amazon.com.