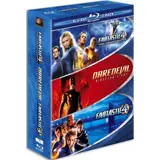 Need to add a little action to your Blu-ray library without breaking the bank? If so, Amazon and Fox have just the deal for you.
From now through this upcoming Saturday, March 17, Amazon has cut the price of four Fox Home Entertainment Blu-ray action three-packs. The sets usually sell between $25 and $30 each, but are now priced at $14.99 or $5 per film for this one week sale.
The first three-pack is Marvel themed and includes Fantastic Four, Fantastic Four: Rise of the Silver Surfer and Daredevil. Pack two leans toward Sci-Fi with Jumper, Independence Day and I, Robot. Too bad all three films couldn't star Will Smith, but two out of three ain't bad.
Pack three is the Arnold Schwarzenegger version of the previous pack. It includes Predator, Alien vs. Predator and Commando. The final pack is dubbed "extreme action" and includes Live Free or Die Hard, Ronim and The Siege.
Click here to browse or shop the Fox and Amazon Blu-ray action three-pack sale.