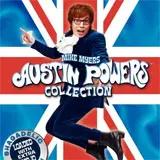 Shagging is most definitely encouraged in Amazon.com's Blu-ray Deal of the Week that launched earlier today.
From today through Saturday, March 10, Amazon is selling the Austin Powers Collection starring Mike Myers, Heather Graham, Beyonce Knowles and Elizabeth Hurley on Blu-ray for $16.99. That works out to 53% off the $35.99 list price, or roughly $6 per Austin Powers movie.
The Austin Powers trilogy includes Austin Powers: International Man of Mystery, Austin Powers: The Spy Who Shagged Me and Austin Powers: Goldmember. There have been rumors of a fourth film brewing over the past couple years, but nothing concrete has surfaced as of yet, if it ever will.
Click here to buy the Austin Powers Collection on Blu-ray for $16.99 at Amazon.com.