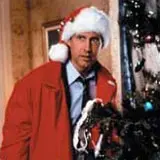 Last fall, Warner Home Video rolled out the second release of A Christmas Story on Blu-ray in a metal tin with cookie cutters and Leg Lamp lights, amongst other goodies packed in.
That set must have proven a success as Warner is moving ahead with a National Lampoon's Christmas Vacation Blu-ray and DVD tin sharing the same general characteristics. The Blu-ray Disc or DVD will be identical to what is already available, but the pack-in goodies are what will make it worthwhile.
Included in the tin will be a Marty Moose Santa Cap; Holiday Drink Coasters with Favorite Movie Quotes; Christmas Ornament Replica Marty Moose Mug; and Instant Snow Powder "I Survived a Griswold Family Christmas" Button.
The mug "figurine" is labeled as exclusive to the Blu-ray version though to be honest I'd prefer a full-sized mug than a miniature.
National Lampoon's Christmas Vacation: Ultimate Collector's Edition on Blu-ray will retail for $49.99 ($39.99 for DVD) with an expected on-shelf price at Amazon.com around $34.99.