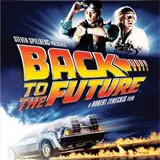 If you can forgive the clumsy packaging, Universal's Back to the Future Trilogy on Blu-ray Disc is a must-own set with all three films looking and sounding better then they ever have. You can read my Back to the Future Trilogy Blu-ray review here.
Even though Back to the Future has been on Blu-ray for less then a month, Amazon.com is already offering it up for sale in their Black Friday deals running this week. For a very limited time, likely today only, the Back to the Future Trilogy on Blu-ray is priced at $34.49 at Amazon. That's a cool 57% off the list price or $15 more than it typically sells for. Say it with me: Great Scott!
You can take of advantage of this Back to the Future Blu-ray deal right here, or take advantage of Amazon's other Black Friday deals that are currently underway.