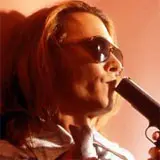 New Line Home Entertainment and Warner Home Video have announced Blow is coming to Blu-ray Disc on September 23.
Blow was originally a New Line Infinifilm title, a designation given to the studio's top properties on home video. Infinifilm titles were often blessed with the best audio and video transfers along with a wealth of bonus features.
The cover art for Blow on Blu-ray reveals it is the first New Line title to appear with a Warner Brothers logo on the case after Warner consolidated New Line into their own operations.
We had one concern with this consolidation that Blow unfortunately validates. Despite New Line previously using strictly lossless audio for all their Blu-ray releases, catalog or new theatrical, Blow will be presented in 5.1 Dolby Digital lossy audio. We suspect had New Line released Blow before the consolidation that we'd be reporting 5.1 or 7.1 DTS-HD Master Audio instead.
Supplemental features include the ability the access vintage footage directly from the film. Whether this is true picture-in-picture functionality isn't spelled out on the back cover art so we're inclined to believe no. The full list of extras is as follows.
Focus Points – Relive the turbulent era of George Jung's rise and fall through vintage footage accessible while you watch the movie
Commentary by director Ted Demme and George Jung
Deleted Scenes
Character Outtakes
Ted Demme's Production Diary
"Push And Pull" music video by Nikka Costa
George Jung interviews by director Ted Demme
Lost Paradise: Cocaine's Impact On Colombia featurette
Addiction: Body And Soul featurette
Fact Track: trivia subtitle track with direct access to additional features
Theatrical trailers
Blow on Blu-ray will carry an SRP of $28.99. Check back regularly for pre-order information.
Join the Blow Blu-ray announce discussion in the HDR Blu-ray Forum.