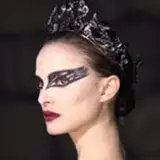 Yesterday's Academy Awards nominations proved ideal timing for Fox Home Entertainment to announce the Blu-ray and DVD release dates for 127 Hours and Love and Other Drugs. They did not, however, make a Black Swan announcement despite the film being up for several awards including Best Picture and Best Actress.
A recent spat of accelerated home video release dates that began with Disney's Alice in Wonderland and caught up with The Social Network and The King's Speech may reach Black Swan as well. Online retailer DVD World USA is listing Black Swan on Blu-ray and DVD with a March 8 release, approximately 1 week after the Oscars wrap up and only 81 days after its mid-December expanded theatrical launch.
Amazon.com is already taking pre-orders for Black Swan on Blu-ray and DVD complete with discounted pricing and what appears to be official cover art. Unlike DVD World USA they are not yet posting a release date.
Black Swan is widely expected to score a Best Actress Oscar for Natalie Portman and is in a dead heat with The King's Speech for Best Picture. Any win would revitalize interest in the film making a March 8 release date a logical selection, even if it represents an extremely short exclusive theatrical window.
Click here to pre-order Black Swan on Blu-ray for a discounted price at Amazon.com.