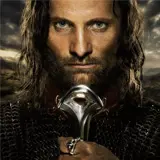 The first day of Amazon.com's Black Friday Week sales have taken over the e-tailers Blu-ray bestsellers chart today. This trend will likely continue straight through Cyber Monday as new one-day only deals will be running through then.
The hottest today has been for The Lord of the Rings: The Return of the King, The Lord of the Rings: The Fellowship of the Ring and The Lord of the Rings: The Two Towers on Blu-ray, each selling for a mere $7.99 for today only and occupying the first through third sales slots. Coming in fourth is Get Him to the Greek on Blu-ray priced at $10.
After Avatar breaks the Black Friday trend, the sixth spot is owned by The Wizard of Oz (70th Anniversary Edition) for $10. In seventh is How to Train Your Dragon on Blu-ray + DVD combo pack for $17.99, followed by Hot Tub Time Machine for $10 and Taken for $7.99.
Check out all of Amazon.com's top selling Black Friday Blu-ray titles for today.