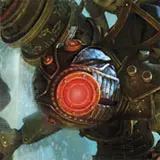 The BioShock franchise is having a hard time making its way into our homes.
First the BioShock feature film, which was to be directed by Gore Verbinski, was shelved by Universal Pictures when the budget soared to heights the studio was not comfortable with. That project's status remains in limbo while Verbinski and his associates determine whether different shooting locations can bring down the cost.
Now we've learned via a Take-Two Interactive financial update that the BioShock 2 game has been delayed into fiscal year 2010. The reason for the delay? In their words, "in order to provide additional development time."
As disheartening this news is for everyone, myself included, who ready to return to Rapture later this year on Xbox 360, PS3 or the PC, it is best the development team has as much time needed to get the game right. BioShock 2 must be nailed on the first try.