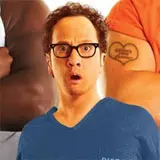 Warner Home Video has announced the prison comedy Big Stan starring Rob Schneider as a con man who must learn to fend for himself in prison has a date with Blu-ray Disc on March 24, day-and-date with DVD.
The film co-stars David Carradine as, who else, the Master, who takes Stan under his wing and teaches him how to survive in the big house.
What makes this release intriguing in terms of Blu-ray's evolution is it was filmed in full screen 1.33:1 video. Studios have been shying away from full screen films as the general populace associates high definition with widescreen. By expanding Blu-ray's catalog with titles like Big Stan, Warner might be declaring they believe Blu-ray will see much greater penetration and acceptance in the first quarter of 2009.
At this time, Warner has not revealed any additional details regarding Big Stan's Blu-ray debut. We'll pass those along once available.
Big Stan on Blu-ray will retail for $34.98. Click here to pre-order Big Stan on Blu-ray for $26.49 from Amazon.com.