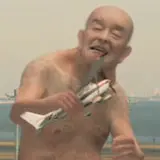 Big Man Japan is exactly what its name implies as strange as that may seem. There is a *really* big man in Japan who gets to play Godzilla against an invasion of bizarre building-sized monsters.
Big Man was not born several stories high. He's actually a middle-aged slacker transformed in size by some sort of contraption at his work. Unlike his giant predecessors entrusted with policing Japan, Big Man is more akin to Hancock who often does more harm than good.
The bottom line is he's big, he's goofy looking, and the monsters he takes on are beyond description.
Check out the compressed trailer below or head over to Yahoo! Movies for the high-def version.
Big Man Japan is set for a limited theatrical run on May 15. As part of Magnolia's Magnet Six Shooter Film Series, expect Big Man Japan on Blu-ray Disc by year's end.