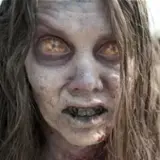 A new featurette promoting the second season of AMC's The Walking Dead has stumbled online and takes a close look at one of the already famous new walker zombies from the upcoming season.
Call her bug yes, doe eyes, big eyes, or whatever you want, but this extra has a natural unique look that would be hard to replicate. She catches the attention of special effects make-up designer Greg Nicotero after her transformation into a zombie, who then calls over Frank Darabont to check her out.
The enthusiasm by the crew for her creepy look should put the zombie actress front-and-center in at least one scene. She might even end up a McFarlane toys The Walking Dead action figure like a couple of the season one zombie walkers have.
The Walking Dead season 2 continues to shoot in and around Atlanta, Georgia and will debut this October on AMC.