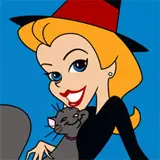 Sony Pictures Television twitched their nose and ordered up a pilot for Bewitched, based on the classic television show starring Elizabeth Montgomery as a witch married to a mortal man.
Bewitched ran on the air from 1964 to 1972. In the summer of 2005, a theatrical version was released starring Nicole Kidman and Will Ferrell. It made over $131 million at the worldwide box office.
The Bewitched film producers Douglas Wick and Lucy Fisher are returning to produce the television reboot pilot and potential series. Marc Lawrence (Miss Congeniality) is penning the pilot script.
Bewitched will join Hawaii Five-0, Dallas, and Charlie's Angels as the latest classic television series to return. Unlike the others, Dallas is a continuation and not a full-on reboot with new actors in familiar roles.