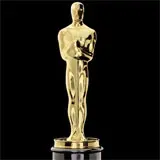 Picking the 2009 Best Picture Oscar winner in next March's pools will be twice as hard as last year.
In a stunning announcement today, The Academy of Motion Pictures Arts & Sciences announced that starting with next March's 2009 Academy Awards, the number of nominees for Best Picture will double from five to ten. The last time there were 10 nominees for Best Picture was nearly 60 years ago.
There are a number of repercussions this decision will have across theatrical and home entertainment. With ten nominees, films shunned in the past like The Dark Knight will have a legitimate chance at the prize. It will also take twice as long to go through clips for each Best Picture nominee.
In home video, five additional titles will be able to slap a Best Picture Nominee sticker on their box art all bur ensuring increased sales.
For The Academy, the move is essential to help drive ratings north rather than the ongoing southern trend. A broader vested interest in Best Picture nominees should, in theory, draw in fans of the extra films who may have otherwise waited to read the results online.
On the flip side, Christopher Nolan and everyone involved with The Dark Knight are probably shaking their heads right about now. One more year. Only one year separated what would have been an in-the-can nomination.
There is always Batman 3 for Nolan assuming he can come up with the right story and get Christian Bale back on board.