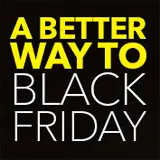 Best Buy's Black Friday 2013 circular ad is loaded with fantastic deals in home entertainment and electronics designed to go head-to-head with Walmart, Target, Toys R Us, Kmart and other stores joining in on the Black Friday madness. This year the Black Friday sales get underway early on Thanksgiving Day as retailers battle for their slice of the pie, and you will find links below that point to the big Black Friday deals that Best Buy has to offer in home entertainment.
Doorbuster deal hunters who brave the long lines and cold weather will have a shot at a cheap iPad or big TV. The Apple iPad 2 with wi-fi and 16GB in black or white has had its price trimmed $100 to push it to $299.99. Also appearing as a doorbusters deal is a 65: Samsung HDTV for $999.99 with free delivery, and an LG 55″ HDTV for only $499.99, the doorbuster deal that is sure to sell out first.
Some Blu-ray titles also made the Best Buy Black Friday 2013 doorbusters list. They include World War Z, Star Trek Into Darkness and Skyfall for only $7.99 each. I would expect online retailer Amazon.com to match these prices at some point on Friday, or by Cyber Monday at the absolute latest.
Sony may have released the PlayStation 4 a week ago, but that doesn't mean PS3 isn't getting some Black Friday love. A Sony PS3 bundle with a 250GB console, The Last of Us and Batman Arkham Origins is being sold for $199.99, almost $200 off its usual price. Additionally a bunch of new release PS3 game are being sold for $34.99 including Battlefied 4, Madden NFL 25, Assassin's Creed 4: Black Flag and Beyond: Two Souls.
Samsung's slim LED 3D TVs will be on sale Black Friday at Best Buy cluding a 65″ set for $1997.99, a 60″ set for $1597.99, and a 55″ set for $1297,99. These Samsung sets are sexy, run at 240hz, and include four pairs of 3D glasses.
It wouldn't be Black Friday without a cheap Blu-ray player and Best Buy has a couple on sale. The Samsung 3D Blu-ray player is going for $87.99 or $42 off, and the LG Blu-ray player with wi-fi will set you back $54.99.
In addition to PS3 deals, Best Buy will be selling a Wii U bundle with the Wii U Deluxe and both Bros. U games, Nintendo Land and a Wii U remote for $319.97, a $50 savings. The 3DS with Luigi's Mansion: Dark Moon is $20 off at $149.99, and Call of Duty: Ghosts will be $44.99 for Xbox 360 and PC. There's also an Xbox 360 mega bundle with a 250GB console and four games: Halo 4, Darksiders II, Tomb Raider and Batman: Arkham City.
Last but not least, the new Apple iPad Air will be on sale for $50 to $70 off its usual price. This is the 16GB model with wi-fi that will be starting at $449.99.
You can peruse the entire Best Buy Black Friday ad 2013 right here, and be sure to keep an eye on Amazon.com's Black Friday deals here where deals are already underway that will often mimic those of other retailers.