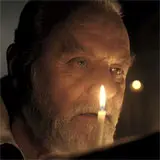 Hot on the heels of James Cameron's Avatar trailer comes the first look at The Wolfman starring Benicio Del Toro, Anthony Hopkins, Emily Blunt and Hugo Weaving.
Directed by Joe Johnston, The Wolfman is inspired by the classic Universal monster movie with creature effects by Rick Baker. Pay close attention to the trailer and you'll spot some gnarly looking creations.
Universal will release The Wolfman theatrically on February 12, 2010.
View the trailer in high definition over at Yahoo! Movies, or check out stills released last night right here.