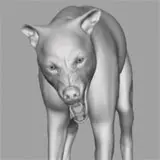 The wolves are loose in The Twilight Saga: New Moon and MSN has put up a new exclusive featurette going behind the scene with the cast and the filmmakers behind the furry CGI beasts.
Taylor Lautner, Alex Meraz and the other wolves tangle with each other and the vampires including Robert Pattinson. The actors talk about their roles while new behind-the-scenes footage of candid moments and stunts are revealed.
The briefest and most interesting portion of the video is veteran effects guru Phil Tippett of Tippett Studios talking about building the CGI wolves and revealing models for each wolf in various stages of complexity. The wolves have come a long way since the first trailer and Tippett's work is now starting to pay off.
Check out the full featurette over at MSN Movies.