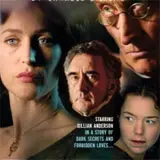 BBC Home Video has announced the BBC television miniseries Bleak House will arrive on Blu-ray Disc May 10 in North America.
Bleak House is based on the Charles Dickens novel but, according to BBC, the story has been "…stripped of its sentimentality, (so) we find ourselves swept along by a pulsating and edgy drama." It stars The X-Files' Gillian Anderson as well as Denis Lawson.
BBC is packing all 15 parts of Bleak House onto 3 Blu-ray Discs. It will be presented in widescreen 1.78:1 1080p video and 2.0 stereo audio.
Vague descriptions of bonus features offered by BBC point towards and Audio Commentary, Interviews and a Photo gallery.
Bleak House will retail for $79.98. High-res cover art and pre-order information are expected shortly and will be published immediately.