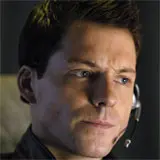 On the day Universal Studios Home Entertainment releases the final season and complete series of Battlestar Galactica on Blu-ray Disc and DVD, Fox confirms Battlestar alum Jamie Bamber will guest-star on the Dollhouse: Season Two premiere episode.
Bamber will be reunited with Tahmoh Penikett, another Battlestar alum who is now a regular on Dollhouse. Bamber's involvement is expected to be of the "one and done" variety though ratings and fan reaction may have the final say.
E Online broke the story and offered this possibility for Bamber's role according to inside sources: "We're told that Bamber's character is heavily involved in an engagement Echo (Eliza Dushku) and her new handler Paul Ballard (Penikett) have been assigned to."
The current date for Dollhouse's season two two-hour premiere episode is Friday, September 25. Season One is, as of today, now available on Blu-ray Disc and DVD.