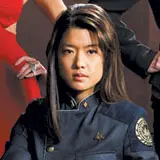 Universal Studios Home Entertainment has released a disc-by-disc breakdown for all 20 discs included with the Battlestar Galactica: The Complete Series Blu-ray Disc Limited Edition Box Set.
Also new today for your viewing pleasure is the first clear image of that collectible Cylon figure packaged with every Complete Series DVD and Blu-ray set.
The same image reveals, for the first time, the Blu-ray cover art for Battlestar Galatica: Season 4.5, also due in stores on July 28.
Check out the new images after the disc-by-disc breakdown below.
Click here to pre-order Battlestar Galactica: The Complete Series on Blu-ray at Amazon.com.
Disc One
U Control – The Oracle
U Control – Picture in Picture Behind the Scenes of the Mini Series – Part 1
U Control – Picture in Picture Behind the Scenes of the Mini Series – Part 2
Deleted Scenes
Sketches and Art
Behind the Scenes Featurettes
Mini Series Part 1 Commentary with Director Michael Rymer and Executive Producers David Eick and Ronald D. Moore
Mini Series Part 2 Commentary with Director Michael Rymer and Executive Producers David Eick and Ronald D. Moore
BD Live – Download Center
Disc Two
U Control – The Oracle
Deleted Scenes
33 Commentary with Executive Producers Ronald D. Moore and David Eick and Director Michael Rymer
Bastille Day Commentary with Executive Producers Ronald D. Moore and David Eick
Act of Contrition Commentary with Executive Producers Ronald D. Moore and David Eick
You Can't Go Home Again Commentary with Executive Producers Ronald D. Moore and David Eick
Disc Three
The Oracle
Deleted Scenes
Tigh Me Up, Tigh Me Down Commentary with Executive Producer Ronald D. Moore
The Hand of God Commentary with Executive Producer Ronald D. Moore
Disc Four
U Control – The Oracle
Deleted Scenes
Are You a Cylon? Personality Quiz
Colonial Day Commentary with Executive Producer Ronald D. Moore
Kobol's Last Gleaming, Part 1 Commentary with Executive Producer Ronald D. Moore
Kobol's Last Gleaming, Part 2 Commentary with Executive Producer Ronald D. Moore
Disc Five
U Control – The Oracle
Deleted Scenes
Ronald D. Moore Podcast Commentaries
BD Live – Download Center
Disc Six
U Control – The Oracle
Deleted Scenes
Ronald D. Moore Podcast Commentaries
Sizzle Reel
Disc Seven
U Control – The Oracle
Deleted Scenes
Pegasus Extended Episode Commentary with Executive Producers Ronald D. Moore and David Eick
Ronald D. Moore Podcast Commentaries
Disc Eight
U Control – The Oracle
Deleted Scenes
Ronald D. Moore Podcast Commentaries
Disc Nine
U Control – The Oracle
Deleted Scenes
Battlestar Galactica Career Assignment Quiz
David Eick's Video Blogs
RND Logos
Ronald D. Moore Podcast Commentaries
Disc Ten
U Control – The Oracle
U Control – Battlestar Blips
Deleted Scenes
Ronald D. Moore's Podcast Commentaries
BD Live – Download Center
Disc Eleven
U Control – The Oracle
U Control – Battlestar Blips
Deleted Scenes
Battlestar Galactica: The Resistance Webisodes
David Eick's Video Blogs
Ronald D. Moore's Podcast Commentaries
Hero Commentary with Executive Producer David Eick
Disc Twelve
U Control – The Oracle
U Control – Battlestar Blips
Deleted Scenes
David Eick's Video Blogs
Ronald D. Moore's Podcast Commentaries
Unfinished Business Unaired, Extended Cut Commentary with Executive Producer Ronald D. Moore
Disc Thirteen
U Control – The Oracle
U Control – Battlestar Blips
Deleted Scenes
Ronald D. Moore's Podcast Commentaries
Disc Fourteen
U Control – The Oracle
U Control – Battlestar Blips
Deleted Scenes
Colonial Military Assessment Quiz
Ronald D. Moore's Podcast Commentaries
David Eick's Video Blogs
Disc Fifteen
U Control – The Oracle
U Control – Battlestar Actual
Deleted Scenes
The Look of Battlestar Galactica
My Favorite Episode So Far
Season 4 Sneak Peek
Season 4 Trailer
Minisodes
Commentary to the Unrated Extended Edition with Executive Producer Ronald D. Moore and Writer Michael Taylor
BD Live – Download Center
BD Live – Battlestar Galactica Card Game
Disc Fifteen
Razor (no bonus features)
Disc Sixteen
U Control – The Oracle
U Control – Battlestar Actual
Deleted Scenes
David Eick's Video Blogs
Ronald D. Moore's Podcast Commentaries
Disc Seventeen
U Control – The Oracle
U Control – Battlestar Actual
Deleted Scenes
The Journey
Cylons: The Twelve
Season 4.5: The Untold Story – Untold
The Music of Battlestar Galactica
Caprica Sneak Peek
Faith Commentary with Executive Producer Ronald D. Moore and Supervising Producers Bradley Thompson and David Weddle
Guess What's Coming to Dinner with Executive Producer Ronald D. Moore and Writer Michael Angeli
Sine Qua Non Commentary with Executive Producer Ronald D. Moore and Writer Michael Taylor
Ronald D. Moore's Podcast Commentaries
Disc Eighteen
U Control – The Oracle
U Control – Battlestar Actual
Deleted Scenes
The Journey Ends: The Arrival
Evolution of a Cue
What the Frak Is Going on with Battlestar Galactica?
A Disquiet Follows My Soul Unaired Extended Episode Commentary with Executive Producer and Episode Director Ronald D. Moore
Ronald D. Moore's Podcast Commentaries
BD Live – Download Center
BD Live – Battlestar Galactica Card Game
Disc Nineteen
U Control – The Oracle
U Control – Battlestar Actual
Deleted Scenes
David Eick's Video Blogs
Islanded in a Stream of Stars Unaired Extended Episode Commentary with Series Star and Episode Director Edward James Olmos
Ronald D. Moore's Podcast Commentaries
Disc Nineteen
U Control – What the Frak Happened to You? (Available for the Unaired, Extended Episode of Daybreak Only)
U Control – Battlestar Actual
Deleted Scenes
A Look Back
…And They Have a Plan
The Musicians Behind Daybreak
Daybreak Unaired Extended Episode Commentary with Executive Producers David Eick and Ronald D. Moore
Ronald D. Moore's Podcast Commentaries