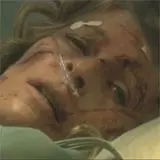 Universal Studios Home Entertainment controls the publishing rights to the modern Battlestar Galactica shows. And they have a plan.
On October 27, Battlestar Galactica: The Plan will debut on Blu-ray Disc and DVD before it airs on SyFy, and will include footage deemed unfit for television audiences. Stepping behind the camera to direct The Plan rather than in front of it is Admiral Adama himself, Edward James Olmos.
The Cylons began as humanity's robot servants. They rebelled and evolved and now they look like us. Their plan is simple: destroy the race that enslaved them. But when their devastating attack leaves human survivors, the Cylons have to improvise. Battlestar Galactica: The Plan tells the story of two powerful Cylon leaders, working separately, and their determination to finish the task.
On Blu-ray, The Plan will be presented in 1.78:1 1080p video and 5.1 DTS-HD Master Audio. A trivia challenge will be exclusive to Blu-ray while the other extras are shared between the two formats.
BD-Live (BD exclusive)

Battlestar Galactica Trivia
My Scenes bookmarking

Deleted Scenes
From Admiral to Director: Edward James Olmos and The Plan – A day-in-the-life with director and actor Edward James Olmos, as he tackles the most ambitious Battlestar Galactica production to date.
The Cylons of The Plan – Features interviews with the actors who play the film's key Cylons, including Dean Stockwell, Tricia Helfer, Grace Park, Michael Trucco, Rick Worthy and Michael Bennett.
The Cylon Attack – This featurette takes viewers behind the scenes for the planning and execution of one of Battlestar Galactica: The Plan's major action sequences.
Behind The Plan – An in-depth look at some stunning visual effects and the role post-production plays in bringing the world of Battlestar Galactica to life.
Filmmaker Commentary
Battlestar Galactica: The Plan runs 90 minutes and has a retail price on Blu-ray of $39.98. Check out a promo trailer below and be on the lookout for high-res cover art and Amazon pre-order information shortly.