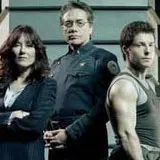 The second season of Syfy's Battlestar Galactica will jump onto Blu-ray Disc as a standalone set on April 6 with an SRP of $89.98.
Though season two is currently available as part as the Battlestar Galatica: The Complete Series set released last summer, this marks the first time it will be released individually. Season one was made available this month.
All of the season two bonus features appearing in the complete series set will find their way to the season two release. Tech specs are also identical with 1.78:1 1080p video and 5.1 DTS-HD Master Audio.
View a complete list of Battlestar Galatica: Season Two bonus features.