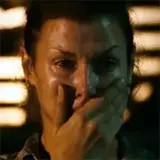 Sony has released their Super Bowl commercial spot for Battlefield: Los Angeles, the rapidly approaching alien invasion flick that takes a "Black Hawk Down" approach to framing the end of the world.
The good news about the Battle: Los Angeles TV spot is that it's awesome. The bad news is that if you've seen the most recent trailer then there is nothing new to see here. Move along, move along.
Battle: Los Angeles stars Aaron Eckhart, Ramon Rodriguez and Michelle Rodriguez as part of a military team who must save a group of civilians trapped in the city where the battle between humans and aliens rages. It will invade theaters everywhere on March 11.