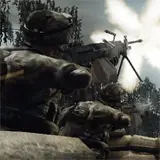 The existence of EA's Battlefield 3 is no secret after copies of Medal of Honor released last fall included an invitation to join the beta for the not-yet announced shooter sequel. Additional information about the game has been nil which many expecting EA to make their big reveal at E3 in June.
According to IGN, EA will take the wraps off Battlefield 3 much earlier. Their report suggests the DICE studio game will be revealed during the Game Developer's Conference (GDC) in a special event on March 1 and will deploy to stores before the year is out.
EA also is expected to allow GDC visitors a chance at hands-on time with Crysis 2, Shadows of the Damned, Alice Madness Returns, and Kingdom of Amalur: Reckoning.
New game announcements will also be made at EA's GDC event.