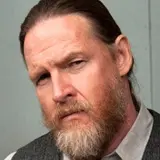 Donal Logue is the latest actor to join Fox's Batman prequel series Gotham following a flurry of new additions that have transpired over the past several days.
Logue will play detective Harvey Bullock, the gruff partner of James Gordon (Ben McKenzie) who doesn't always play by the rules. The character is plucked from the comics though has never appeared in a direct translation to a live-action Batman project. He however has inspired characters that appeared in Tim Burton's Batman and Christopher Nolan's The Dark Knight trilogy.
The small screen is no stranger to Logue who had a long run on Fox in the sitcom Grounded For Life. He most recently has starred in FX's Sons of Anarchy, BBC America's Copper, and The History Channel's first original scripted project Vikings.
Production on Gotham will commence on March 17 with the premiere set to debut this fall on Fox. The network has already placed a series order for Gotham so a traditional pilot will be bypassed.