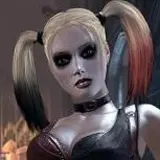 Today Warner Bros. Interactive and DC Entertainment upped the Batman: Arkham City want factor by confirming the game will support stereoscopic and anaglyphic 3D.
For Xbox 360 and Playstation 3 owners, the stereoscopic option will require a 3D television and active shutter glasses. PC players will need GeForce GPU-equipped Vision technology on their desktop or laptop to watch Gotham City pop out in the third dimension.
Anyone with the Batman: Arkham City game, 3D glasses and an HDTV will be able to enjoy the game in old school anaglyphic 3D.
Batman: Arkham City will be released on October 18 in standard and collector's edition sets.
Click here to pre-order Batman: Arkham City on the platform and edition of your choice at Amazon.com.