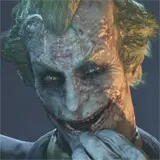 Batman's arch-nemesis The Joker is the star of the latest trailer for Batman: Arkham City, the guaranteed upcoming blockbuster sequel from Rocksteady Studios.
A sick Joker and his crew, including Harley Quinn, have big plans in Batman: Arkham City. Batman, of course, would love nothing better than to finally wipe The Joker off the face of Gotham City forever. The Joker might even give into that idea if Batman's demise comes with the deal.
Get a peek at The Joker's arc and his new hammer-wielding thug in the Batman: Arkham City trailer below.
Click here to pre-order Batman: Arkham City for Xbox 360, PS3 or the PC at Amazon.com. It will arrive in stores on these platforms on October 18.