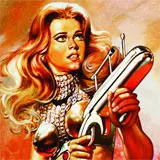 Paramount has issued a July 3 release date for the debut of Barbarella starring Jane Fonda as the titular heroine on Blu-ray.
Originally released in 1968, Barbarella is the story of a sexually driven woman who also happens to be responsible for saving the universe. Whether it's seducing an angel or performing a striptease without the aid of gravity, Barbarella knows how to have a good time and look good while doing so.
The Queen of the Galaxy will fly onto Blu-ray 1080p high definition video and English Mono Dolby TrueHD audio. Supplements will consist of the film's theatrical trailer.
Look below for the Barbarella Blu-ray box art reveal with some spiffy slipcover artwork based on the original one-sheet movie poster.
Click here to pre-order Barbarella on Blu-ray for a discounted price at Amazon.com.