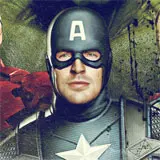 It didn't take long for someone with some mad Photoshop skills to put the new Marvel Captain America and Thor concept art to use.
French artist ''ALilZeker' over at DevianART had previously created a series of Avengers-based posters with Iron Man and The Hulk, but the new concept art allowed him to expand the roster and build his first Avengers team poster with Chris Evans and Chris Hemsworth alongside Ed Norton and Robert Downey Jr. This one, and a separate poster for Captain America with a vintage WWII-era feel, are good enough to hang on your wall right now. Check them out below.
View the rest of ALiZeker's Avengers posters right here.