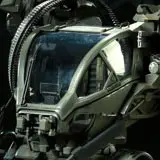 One of the cooler pieces of tech in James Cameron's Avatar trailer is the AMP Suite Maquette. The Massive mech seats a single human pilot and uses over-sized hands to fire some seriously massive weaponry.
As part of Avatar Day, Sideshow Collectibles unveiled an awesome maquette for the suit that has to be seen to be believed. Standing 21″ H and weighing a hefty 12 pounds, the AMP Suit includes a base and human pilot figure.
The AMP Suit Maquette doesn't come cheap at $1199.99 a pop but it is available for pre-order at Sideshow right now. If your pockets aren't quite that deep, they've got a great gallery of the piece that shows off the cockpit detail and mud paint applications.
Jump over to Sideshow to check out the Avatar AMP Suit Maquette.